Looking for Titan Alarm Reviews?
Read our Titan Alarm Reviews Below.
Titan Alarm Reviews – Overview:
Titan Alarm is based in Phoenix Arizona and has a focused business model, target marketing the United States. They currently operate in about 29 states including Arizona, California, Colorado, Idaho, Nevada, Texas, Utah and Washington. Their website says, "We focus on customer and employee satisfaction and pride ourselves in excellent customer service. Our goal is to make each customer happy for life and build lasting relationships throughout the community." – Titan Website.

Titan Alarm Reviews: Overview
I have to be honest, my first impression of Titan's "About Us" statement left me skeptical from the word go, but as I researched further I realized they may be on to something. With top of the line systems and over the top service, it should put this company above others. But wait….then I found their BBB ranking.
In the last 36 months, they recorded 30 complaints and most had to do with product and service. Their C ranking is worrisome, but what they did with the complaints is intriguing. They closed each complaint and based on other service reviews I bet they addressed these issues individually.

Titan Alarm Reviews: Summary
Pros
Titan has all the bells and whistles of other companies, but I like the mobile device features. When away, they allow customers to monitor your home 24/7 giving customers greater peace of mind. Allowing customers to control home settings such as temperature or monitoring basement flooding is the wave of the future and Titan brings this to their customers.
Cons
Based on reviews and BBB reports it appears false alarms can be an issue. Most police departments charge a fee for false alarms so as a home owner this can become fairly expensive rather quickly. But this may be a problem with any security system where verification is not offered.
Customers claim Titan offers gift cards, but some seem to never receive them. As an officer, I have seen this work both ways, so I have a hard time giving a negative rating for this claim.
Titan Alarm Reviews: Introduction
Titan offers the 2Gig Solution which was the Winner of the 2011 Security Product of the Year. If you have never seen it, it is quite impressive. It has an interactive, color touchscreen that communicates via cellular connection. So there are no wires to cut. Plus you can completely interact with the system from mobile devices.
Titan Alarm Reviews: What is Offered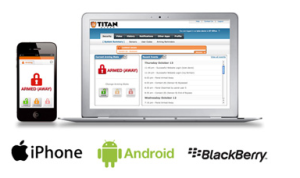 Titan is a catch all company and appear to do it well. They offer many products but with the idea of tailoring a system to specific needs. They offer a wide variety of products for residential and commercial customers and brags of their 24/7 customer service. They give customers the ability to interact with their system via iPhone, Android or Blackberry.
Titan Alarm Reviews: The Verdict
I like this company and rave for their customer service and quick response to negative feedback. They truly want your business and back it with service. Their products appear admirable even with the BBB reviews and if problems arise they are quick to respond. If you are in their service area, I recommend giving this company a try.
Titan Alarm Reviews: Home Security Company Reviews
Titan Alarm Reviews

,