Looking for Protect America Security Reviews? (888) 951-5144
Read our Protect America Security Reviews Below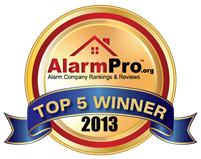 Protect America is a well-known and respected security provider best known for their Do-It-Yourself (DIY) wireless alarm systems. They have been around for over 20 years and their offering would be best characterized as "affordable yet reliable". The company was one of the first to convert from wired to wireless security systems which is what made DIY systems even attractive to home and business owners.
Protect America Security Reviews

,
---
The Pros
---
Loyalty and Longevity:
According to SDM Magazine, Protect America has ranked in the Top 10 in volume of residential security system installations for the last three years. They have been in the home security space for over 20 years and currently protect a half a million homes. As for loyalty, the average customer stays with the company for approximately 9 years.
Equipment:
They offer more equipment for free than any other security company that we tested. Their basic security system, a GE Simon XT, is provided free with a standard 3 year monitoring contract. Each security package includes up to 15 door/window sensors, a motion detector, 3 window stickers, and a yard sign.
Products and Packages
Protect America offers a little of everything in their many packages. Every customer has a package just right for their situation. Customers are sure to save money with a very easy DIY installation process, no up front cost, and a low monthly monitoring fee.
The Cons
---
BBB Ranking
Protect America holds a B- rating on the BBB. Of the 469 complaints in the last three years, over 70% of those complaints deal with billing. However, in recent years many users have reported back to us that this has vastly improved. 
Contract
Protect America requires customers to sign a 3 year contract however, that is common across most of the industry. They also make it available to sign online so make sure you are close to a computer if you are signing up with Protect America.
Self-Installation Solution
A self installation solution can initially seem intimidating. However, by incorporating a cellular phone connection as well as wireless access to sensors - it really is not that difficut of an installation. They also now offer a technician available over the phone that can walk you through every step of the process. 
---
Pricing and Packages
Copper Package
Free - 3 Door/Window Sensors
$19.99/month
Bronze Package
Free - 7 Door/Window Sensors
$35.99/month
Silver Package
Free - 10 Door/Window Sensors
$37.99/month
Gold Package
Free - 12 Door/Window Sensors
$39.99/month
Platinum Package
Free - 15 Door/Window Sensors
$42.99/month
---
| Our Criteria | Our Ranking |
| --- | --- |
| Mobile Experience | 10 |
| Time in Business | 10 |
| Warranty Program | 8 |
| Contract Length | 8 |
| BBB Rating | 7 |
| Company Strength | 10 |
| Installation Fee | 8 |
| Homeowner Feedback | 8 |
| Monthly Monitoring | 10 |
| Hardware & Equipment | 10 |
| Final Ranking | 9.2 |
See It in Action
We thought this was a pretty good video that shows you the product in action. You can see that since it is wireless and cellular, it is not that complicated to install. 
---
The Bottom Line: Protect America Security Reviews
Since 2008 Protect America has earned Consumer's Digest Best Buy rating and is picked by most reviewers as the number one company in America. AlarmPro.org is no different, we have Protect America at the top of our list and it will remain here until a company can offer the same service and products.
Call to Speak to a Home Security Specialist: (888) 951-5144
---
Back to top