Looking for Xfinity Security Reviews?
Read our review on Comcast Xfinity Security Below.
Comcast Xfinity Security Reviews – Overview:

Comcast is the largest home automation provider in the US and started as a cable television provider in 1969 in Tupelo, Missouri. They currently provide service to over 17 million customers nationwide. They offer cable TV, internet and telephone services to most of the country. The company now offers a new home security product to it's lineup called Xfinity Home Security Service. Packages start at $40 a month and feature live video monitoring, lighting and climate control, touch-screen burglar and fire alarm monitoring, and more. They also offer a web portal and iPhone app. The solutions is powered by iControl Networks' Open Home automation and security

Comcast Xfinity Security Reviews: Summary
Pros
IP-enabled touchscreen keypad with access to multiple apps.
Cons
New security offering full of glitches and problems.
Comcast Xfinity Security Reviews: Overview
Xfinity, offered by Comcast, includes cable and internet, and to a lesser-known extent Xfinity Home Security as well. Xfinity Home Security is sold in three basic packages, the first two with installation fee of $199.00, and the third with a fee of $499.00: Basic, Preferred and Premium. However the system itself is free and includes a touchscreen control panel. In fact, with most basic security packages offered by other providers, touchscreen control panels are an upgrade. Additionally, the control panel, or keypad, has connectivity to any internet-capable device enabled for anytime monitoring by homeowners, in addition to integrating apps such as weather, sports and news.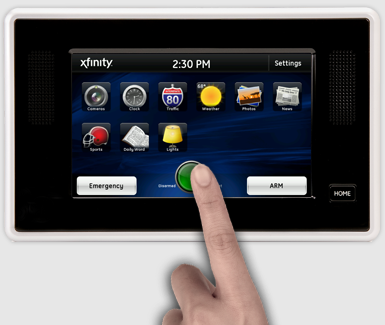 Optional components for all system levels include detectors for carbon monoxide and water, glass break sensors and curtain motion detectors which cover large areas like walls. Other components included in Basic packages are a single motion detector, as well as two door and window sensors.
Xfinity also requires a three-year contract at a monthly cost of $29.95 for the Basic package to cover the service of 24/7 365 monitoring performed by a monitoring center certified by Underwriters Laboratories.
Comcast Xfinity Security Reviews: Available Options
The Preferred package offered by Xfinity builds on the Basic package with the inclusion of access to Comcast's web portal. This portal allows anytime monitoring of a homeowner's security system with features such as security history, as well as control of automated lighting, thermostats and the aforementioned touchscreen keypad. An entire home security system may also be armed or disarmed via the portal in common cases when the task is forgotten, when access must be granted with no notice. The monthly fee for the Preferred package is $39.99 with a three-year agreement.
Premium is the high-end of Xfinity's home security offerings. The most obvious benefit to the Premium package — and the principal reason for the increase from a $199.00 to $499.00 installation fee — is the inclusion of surveillance cameras. For the high price Comcast indeed delivers with four surveillance cameras, a pair placed inside and outside. Included as well are a pair of controllers for small appliances and lighting, and a programmable thermostat in addition to the regular components like window and door sensors. The monthly fee for the Premium package rises to $59.00.
The solution itself is elegant however the delivery of the solution to homeowners has proved to be a challenge for Comcast. We continue to hear from home owners about installation, operation, technology and monitoring problems. This is unfortunate because the idea of bundling home security along with cable, phone and internet services is appealing. However, there does not seem to be a pricing advantage in doing this.
Comcast Xfinity Security Reviews: Here is a Great Video that Provides an Overview of Comcast Xfinity's Security Product
While Comcast is an established company, their entrance into home security is brand new with the Xfinity product line. We have discussed their solution with lots of homeowners and unfortunately their experience so far has been negative. Until Comcast can get all of the technology and installation problems worked out, we recommend considering other comparable wireless solutions like Protect America, Vivint or LifeShield.
Comcast Xfinity Security Reviews: Home Security Company Reviews
Comcast Xfinity Security Reviews

,